[vcvv id=136570056]
Zen Arts provides state-of-the-art acrobatic acts for Le Grand Cirque Show in Niagara Falls, Canada. For the fifth year in a row, Zen Arts, working in tandem with Dublin Worldwide Productions organizes this daredevil, stunt-heavy ensemble of performances.
This year Zen Arts debuts their innovative LED Trampoline Wall Act and also features the Wheel of Destiny Act in which a female-male duo balances in a large-scale revolving metal apparatus. Crafted especially for the spellbinding wall-tramp act, Zen Arts designed futuristic LED suits to generate a truly avant-garde feel.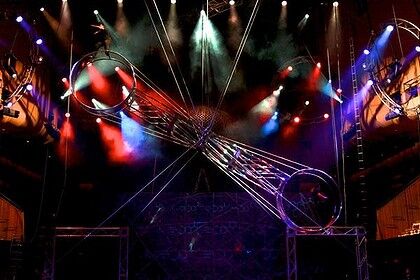 Featuring over 40 fearless international performers, spanning from master fire performers, to aerial juggling acts, to world-class duo roller skating, the show will have your adrenaline pumping on overdrive as soon as you walk in the door!